Durban, do you need help with cleaning, maintenance & repair?
Durban: Maintenance & Repair Services
Our team normally offer the following services.
DURBAN MAINTENANCE & REPAIR MATERIAL SOURCING
We can assist with the sourcing of materials required for your cleaning, maintenance and repair jobs. This may range from cleaning agents, pest control products through to building materials and equipment.
DURBAN MAINTENANCE & REPAIR CONTRACTORS
We can assist you with a wide range of cleaning, maintenance and repair jobs, some of which are listed below –
Plumbing including pipes, taps, washers and more

Windows – Cleaning may be limited, depending on the technicalities of the job. We normally do residential or small scale commercial building window cleaning.

Internal and external doors

Rain gutters, down pipes and storm water drainage outlets – Including removal of debris and weeds

Internal and external building walls – Including cleaning, filling of cracks, priming and painting

Perimeter walls, fencing and gates

Roofing structures, tiles and/or sheet metal

Kitchen and bathroom wall tiles and grouting

Various internal and external flooring – Including wooden decks

High pressure cleaning and maintenance of paving, brickwork and other relevant material structures

Various wooden structures

Various metal structures and components

Basic cleaning and maintenance of swimming pools and other water features

Outbuildings, storage facilities, gazebos and shelters

Drilling of holes for fixtures, artwork or pictures to be hung on the wall

Other: Contact us to see if  we can assist with your specific requirements
DURBAN WOOD TREATMENT
Wood is a material commonly found is all facets of everyday living. Although woods are treated for their particular application, over time the natural environment starts to take its toll and degeneration starts to occur. Cleaning, maintenance and repairs are essential to ensure the prolonged life of your wooden products and structures. Various wood types may need varying treatment applications and at different levels of intensity.
For general wood treatments, we will assess the level of required restoration, remove and replace panels, planks or poles that are badly damaged or showing signs of rot. As and when required, we will sand, prime, paint… Or prime and vanish… Or prime and oil. We will repeat the required processes depending on the types of wood and the purpose of it's functions/ use.
DURBAN METAL WORK
Durban's hot and humid climate can often result in to metal products rusting is a relatively short space of time, particularly if not treated correctly. If you start to notice light surface rust on your metal products, it is time to address this before the rust really sets in. Deep set rust may render your metal products useless in no time at all.
Cleaning, maintenance and repairs of rusted metal in vital to ensuring you do not lose your metal products to the scrap metal yard. Depending on the type of metal, we will apply treatment for the best result, wherever possible. As and when required, we will sand, prime, paint… Or prime and oil.
DURBAN MAINTENANCE/ REPAIRS OF CONCRETE, BRICK & OTHER MATERIALS
For all other materials and/or products needing cleaning, maintenance or repairs, we will inspect and advise for the best possible treatment and optimum results. Understandably, badly damaged goods may not be worth trying to fix, but we will make every effort and will advise accordingly to help save you time, money and any inconvenience going forward.
DURBAN HANDY MAN SERVICES LOOK TO OFFER YOU MORE
If you are unsure as to whether we can assist you with your particular requirements, simply Contact us for a hassle FREE inspection or quotation. If we are unable to assist you in person, we will make every effort to steer you in the right direction.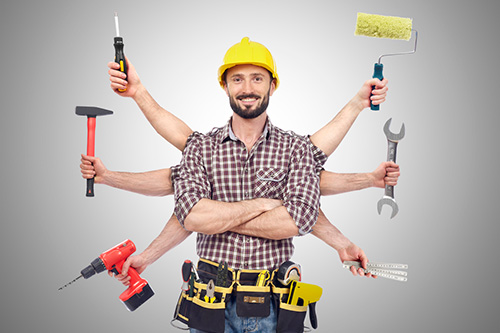 DURBAN OFFICE: HANDY MAN
[HQ] Durban, KwaZulu-Natal – South Africa

Monday – Friday: 08h30 – 17h00
LEARN MORE ABOUT US
IBIS PROJECTS' BRANDS
*ADVERTISING
Videos: Maintenance & Repairs
More About Maintenance & Repairs
Maintenance, repair and operations (MRO) involves fixing any sort of mechanical, plumbing, or electrical device should it become out of order or broken (known as repair, unscheduled, casualty or corrective maintenance). Maintenance, repair and overhaul (MRO) services also include inspection, rebuilding, alteration and the supply of spare parts, accessories, raw materials, adhesives, sealants, coatings and consumables for aircraft manufacturing and MRO.
In all sectors, effective MRO involves performing routine actions which keep devices, equipment, machinery, building infrastructure and supporting utilities in working order (known as scheduled maintenance) and prevent trouble from arising (preventive maintenance).
Source: wikipedia.org